It's all my parents fault, really….  In September of 2014 my world traveling parents went on a 7 day Carnival cruise to the Southern Caribbean and had an awesome time.  My mother and I speak often (not often enough if I'll be honest) and I got the extended trip recap from her over a series of conversations.  They had such a blast that my husband and I started thinking about taking a trip, ourselves.  A quick search of upcoming cruises leaving from Port Canaveral led us to Royal Caribbean's Enchantment of the Seas, which does 3 and 4 night cruises from Port Canaveral to Nassau and Coco Cay (Royal Caribbean's private Bahamas island).  Hubby and I had been on a handful of cruises beforehand with our families and friends, so we were familiar with the experience.
As you can imagine we had an exciting Thanksgiving as we anticipated our adventure, which started on a Monday and ended on Friday.  We drove to Port Canaveral, which is about an hour from our home, and easily found parking in the garage at the port.  Embarkation was efficient, possibly due to the fact that we had booked a Royal Family Suite and there is a special line for suite guests.  After the obligatory picture at the gangplank we headed onboard.
Like most people do we made a beeline for the buffet, which was underwhelming in variety and quality.  Overall, I would say the meals on the entire journey were just okay; aside from the meal we shared at the specialty (additional cost of $35) restaurant, Chops, which was delightful.  At each meal, both in the main dining room and the buffet, we could always find something to eat until we were filled, but nothing was remarkable.  The children, though, were quite happy with the kids menu options and I was pleased as well with the variety there.
Our suite, the Royal Family Suite, was great for a few reasons and disastrous for a few others…  I really liked the layout; it has two bathrooms, two separate bedrooms and a living area with balcony.   The kids room (with two double beds) does not have windows to the outside, just a floor to ceiling window into the hall to let in natural light.  There were also two large closets, which provided more than ample storage space.  The living room was equipped with tv and play station (which also plays dvds) and fresh fruit was delivered daily.  The lay out was certainly luxurious by cruise ship stateroom standards and was quite comfortable for us whenever all four of us had to be in the room at once.  Now for the disaster…. The kids room had an awful musty smell that was quite strong and never went away, even with valiant efforts by our room steward and the maintenance staff.  Then, two days into our trip, the bathroom floor drain belched up disgusting black water while I was running a bath for the girls.  Maintenance once again responded quickly (their team gets several thumbs up) and remedied the problem.  Once our plumbing issue was fixed the floor steward manager appeared at our room again (we were almost on first name basis by now), apologizing for our catastrophic room issues and without prompting offered us a 40% refund for our entire cruise (to be used on a future RC trip).  This assuaged my frustration and disappointment with our stateroom experience quickly, particularly because the refund was unsolicited.  I must say that our experience with the stateroom staff was exceptional; even though our stateroom was horrible.  Thevstaff's attentiveness and response to our issues was better than I'd expected.  From the first call we made with our concerns of the smell, each visit from maintenance was accompanied by a follow up visit from the stateroom management staff.  The customer service we received truly made our trip not just bearable but enjoyable.
Enchantment is one of the older ships in the fleet so it doesn't have most of the innovative water slides and such that you'll find on the newer ships.  There was a basic pool and a splash pad for the kids on the pool deck.  A hot tub and a bounty of reclining loungers were also present.  These areas remained sparsely populated for much of the trip due to the hidden sun and cool temperatures on our voyage.  Other activities found on the pool deck include a rock climbing wall and JumpZone which is a huge trampoline cruisers jump on while attached to a harness with bungee cords.  Look like a lot of fun but my husband and I didn't get to try either of these activities.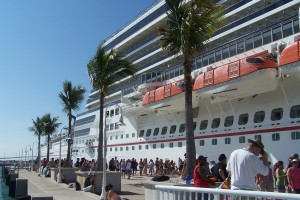 Considering the less than ideal outdoor environment our girls spent much of their onboard time in the Adventure Ocean kids club.  Though it was relatively small, the club was clean and very well run.  I was highly impressed with the staff there; they were very attentive, particularly towards our 3 year old who was hesitant to attend on a few occasions.  From what I observed the staff to child ratio was just right.  I even observed their care of special needs children within the center on a few occasions and I was touched.  Each time I went to pick up the girls, a staff member had a pleasant report about their time and activities while in the club and I felt as if my children were receiving expert care.  The hours of the club are 9am-noon, 2pm-5pm and 7pm-10pm, so there were mandatory breaks coinciding with meal times.  On a few days there was the option to sign the kids up to eat lunch with the staff; we did this one day and the girls reported that they were escorted to the buffet with the staff members and ate lunch as a group.  At the end of the trip our emotionally dramatic 7 year old was in tears that the of her adventures in the club had finally come and how she'd never, ever, EVER get to see her cruise friends again. I'd say she had a great experience.
Entertainment was less than impressive.  My husband and I don't drink or frequent clubs so we stayed away from much of the exciting venues in the evenings, opting for quiet time on our balcony or in public lounge spaces.  The music was disappointing overall.  I am a musician and have a very sensitive musical ear, which in many cases is the bane of my existence.  There are many occasions when my husband and I are together taking in a musical performance and I'm wincing in my seat while he is passively engaging in the experience.  Well, on this ship, we both were wincing in our seats, lol.  From random singers/bands performing in the centrum area to the broadway revue type shows, the quality of the performers and the productions were decidedly mediocre.  We never lasted more than 15-20 minutes in any of the performances offered.
The cruise itinerary was scheduled to include one day at Coco Cay, one day in Nassau and one day at sea.  Due to the poor weather we were not able to stop at Coco Cay.  The cruise ships have to anchor far away from the private islands, in some cases, and passengers are transferred to the island via tender boat.  The water was just too choppy to allow safe tender transfers so the ship continued on to Nassau and we had an extra day at sea.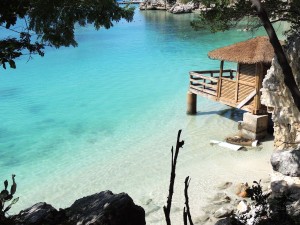 My husband and I had been to Nassau many times so instead of planning big excursions for that day we actually met up with a friend of mine who was spending an extended vacation with her family on the island.  She and her 3 year old daughter, who is close with my girls, picked us up downtown, near the port, and we were whisked away.  We spent the day visiting with her family and relaxing on a quiet, secluded beach near her home.  Though the weather was sunny and warm, the water was very cold so we spent most of the beach time just letting the girls play and resting in the sun.  On the way back to the port, mid afternoon, we stopped for lunch at an AMAZING bistro called Aqua Fire; while a bit expensive, the food was incredible and there was a distant view of the ocean.
The trip crashed to a stressful close on disembarkation day.  We planned to carry off our own luggage that morning and followed the instructions by having a quick breakfast in the main dining room and then heading out on deck to the gangway.  Well, we were standing on that deck for what felt like 25 minutes before the line started moving at all.  Then it was another 20 minutes before we were off the ship, and we hadn't even reached the customs line yet!!!  Luckily the kids had just had a big breakfast but I didn't have any snacks or fruit packed in my tote as I normally would because I didn't want to run into any problems with customs (images of me forgetting an apple in the bottom of my bag and a dog sniffing it out were parading through my head—I'm slightly neurotic and paranoid like that LOL).  There was a lot of whining as we got to customs but somehow we made it through without total meltdowns.  This disembarkation process was remarkably different from our Disney experience so I'm not sure if this was just a bad day for Royal Caribbean or part of their normal process.
Overall I would say that the cruise was a fun adventure for us.  It reintroduced hubby and I to the benefits of cruising as a family and the kids enjoyed this new experience.  I think 3 and 4 day cruises are a great idea for families who are new to cruising and also are on limited time or budgets.  They can offer a fun experience for the value.