Hubby and I loved to spend time in the adults-only Solarium area aboard the Oasis of the Seas.  There is a restaurant there which serves meals three times a day.  Breakfast and lunch buffet are complimentary but dinner is truly special occasion that often requires reservations and carries a $20 per person charge.  Our experience was absolutely delightful and we found the fee perfectly reasonable for the quality and amount of food we received.
We had enjoyed lunch earlier that day at the buffet in the Solarium and absolutely loved it.  The offerings were fresh and healthy and the setting was refreshing.  For dinner they transform the space slightly, with dimmed lighting and new dressings on the tables and chairs.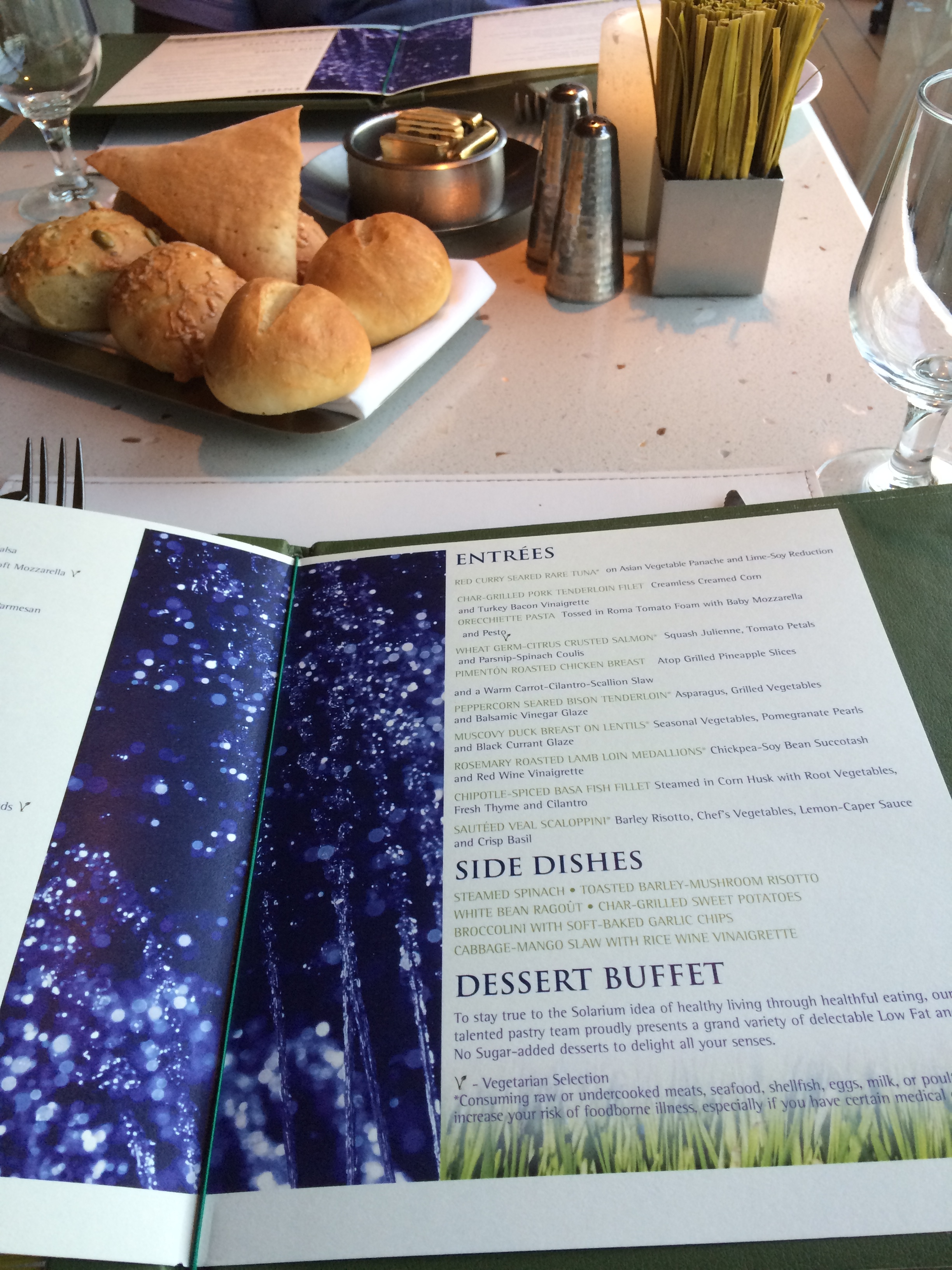 Our waitress was pleasant and attentive, offering suggestions and detailed descriptions of the items found in our menus.  We decided to start with appetizers and soup.  Joel opted for the Toasted Barley Mushroom Risotto with the Cauliflower and Leek Soup.  I chose the Mediterranean Ratatouille and the spectacular Caribbean Pumpkin-Coconut Pot (the best pumpkin soup EVER).
For our entrees we chose Wheat Germ Citrus-crusted Roasted Salmon and the  Orrechiette pasta with roma tomatoes and baby mozzarella.  Everything we ate tasted fresh and you could tell the ingredients were of the best quality.
There were several sides available to order which could compliment your meal.  We tried a fresh mango-cabbage slaw, broccolini and roasted sweet potatoes, all of which were totally yummy.
For dessert they had a small buffet set up of parfaits, light cakes, fresh fruit and cheesecake.  We opted for the cheesecake which was sublime.
Dinner was great and it was so relaxing, watching the sunset from the Solarium.  Next time we're on the Oasis or the Allure of the Seas, we will surely make plans to eat here again.