I'll be honest: I usually avoid the Downtown Disney area like the plague.  Since we moved to Florida two years ago we have been deeply immersed in everything Disney.  As annual passholders we frequented Walt Disney World often during our first year here, taking quick family dates to the parks on random weekday afternoons and and relaxing afternoons at the Downtown Disney shops.  In the last year though we've avoided the area in general due to the headache inducing traffic surrounding the area.
Now I finally understand why: Downtown Disney is being reborn as Disney Springs with new areas to shop and dine and a transformed look.  My husband and I are real foodies and the first thing I researched when I heard about the construction and renovations was the new dining options that were planned.  Morimoto Asia has been on my radar for months now.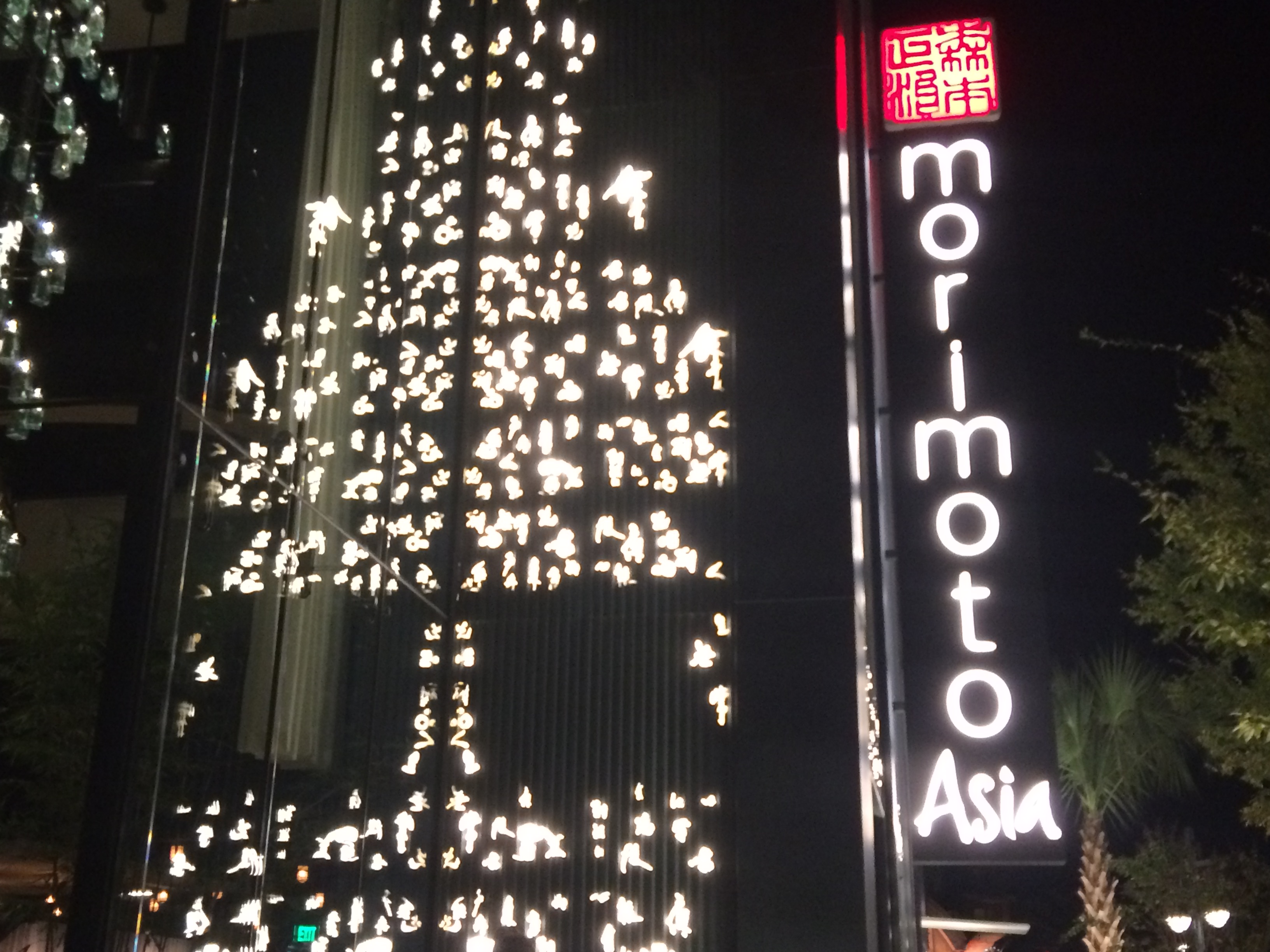 Morimoto Asia is the baby of Iron Chef Masaharu Morimoto, featuring pan asian cuisine in a chic and opulent setting.  Hubby and I love Asian food and with his birthday around the corner we decided it would be perfect timing to celebrate this special occasion at the new restaurant.  I made reservations weeks in advance; the restaurant opened late September and is hugely popular.
The weather was absolutely perfect that evening; warm and breezy without the suffocating humidity that we'd grown accustomed to all spring and summer.  We parked near La Nouba and had to walk over to Pleasure Island to find the restaurant; there are still construction barriers and scaffolding in many areas and the restaurant was not easily visible from the parking lot.  Morimoto Asia is right across from the Raglan Road Irish Pub.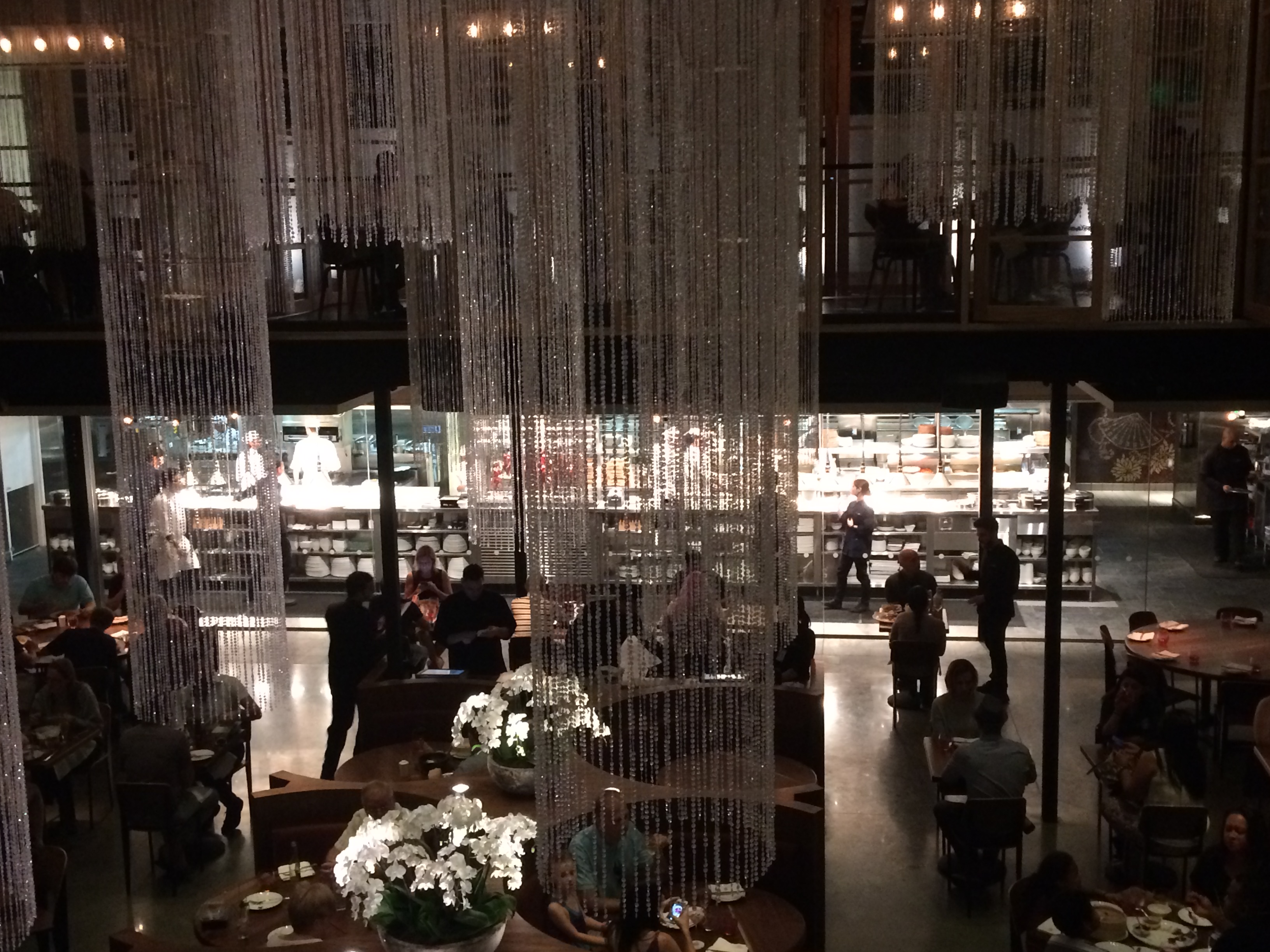 I loved the design and openness of the restaurant from the entry way and into the main dining hall.  Lovely crystal-like chandeliers hung from the ceiling.  The decor seemed like the perfect mix of traditional asian themes and modern architecture.
We were seated quickly and our waiter Dionisio (from the Dominican Republic) introduced himself right away.  We loved this guy; he was the perfect waiter, attentive and knowledgeable, never pushy but always on hand whenever we needed something or had a question.  He quickly went over the extensive and varied menu with us and then left us to make our choices.  As we waited we took in our surroundings.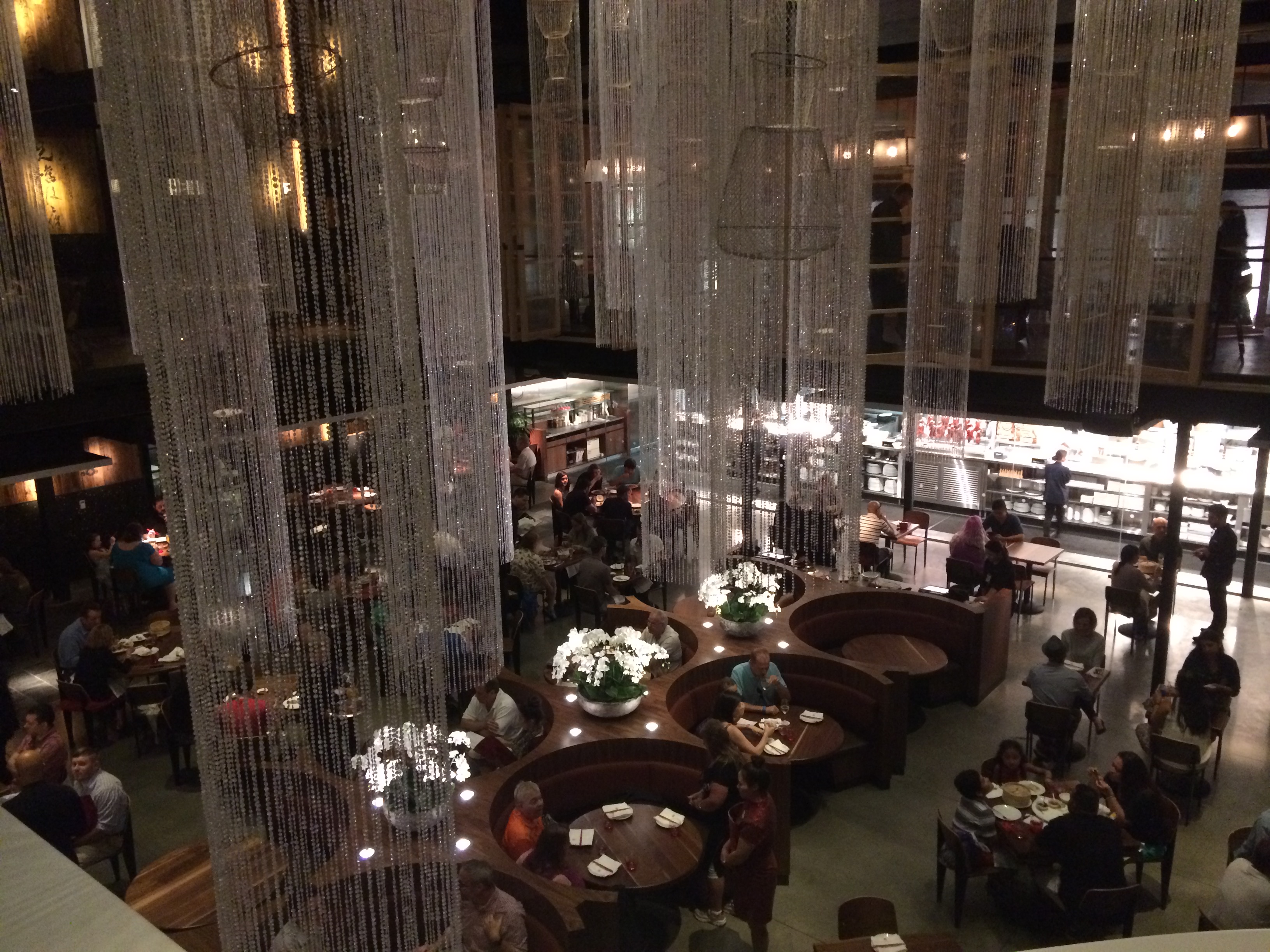 We were seated on the mail level in a circular booth.  Above us, on the second level we could see a couple different seating environments.  To the back there was a classy sushi bar.
Up to our right there was an  area of glass walled private areas.  Each area was separated by a glass and wood folding wall.  Our waiter told us that these seats were open to all diners but that we could make a reservation in advance and request a specific area to host a private meal.  The folding walls could allow multiple semi private parties or one large private party, seating up to 50 people.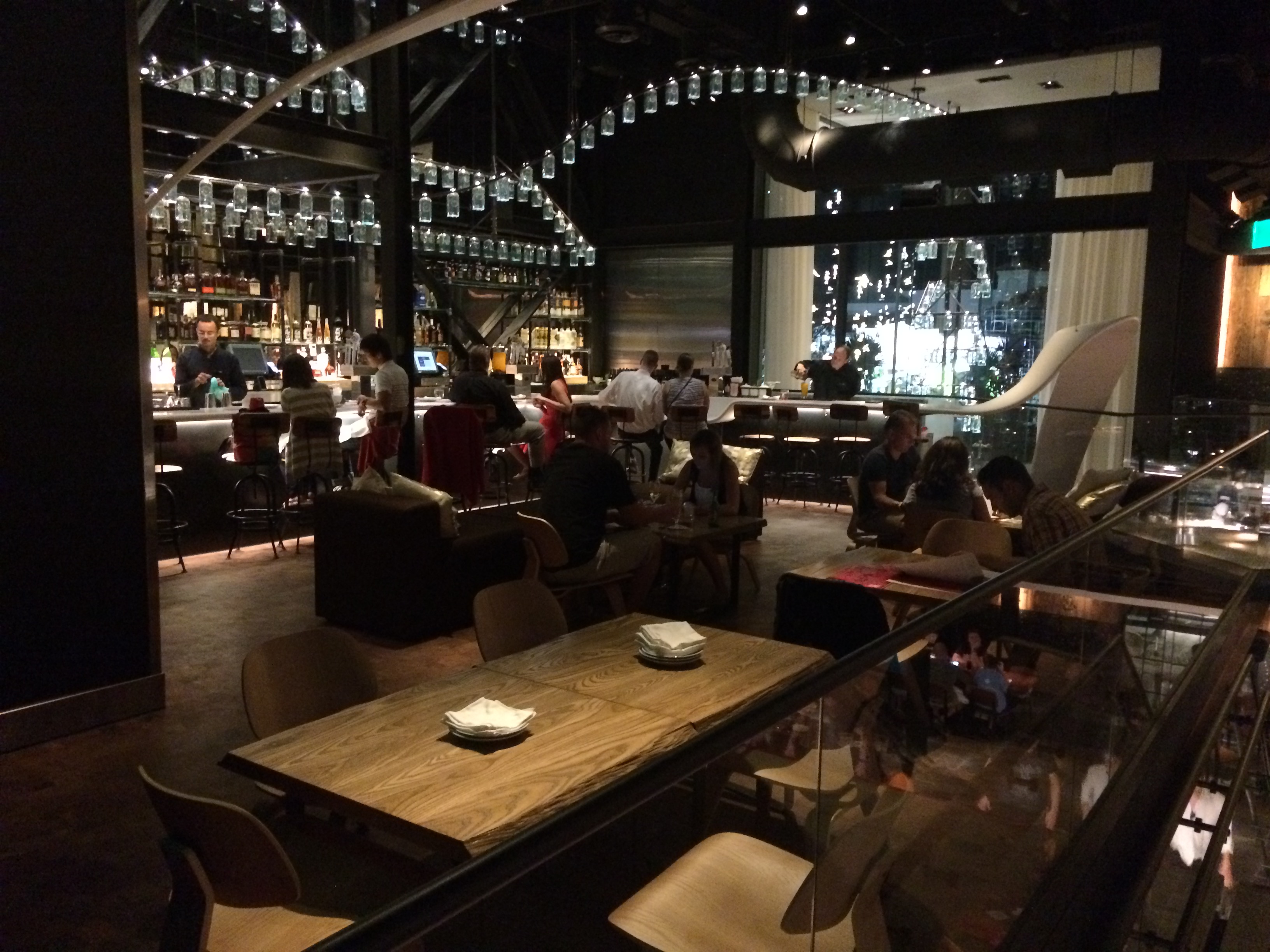 Past a beautiful staircase was another seating area with a bar and some lounge type seating.  Beyond the bar is an outdoor seating area on a balcony.
On the main level the master kitchen is open to view for all diners, separated by a large glass wall that service staff can walk quickly and easily around.
Our appetizers arrived in quick succession.  We started with steamed vegetable dumplings (I forgot about my blogging duties, partially because of our intense hunger and I failed to get a good shot of the yummy dumplings pre-attack LOL).
We tried the vegetable sushi rolls with brown rice which were the best we've ever tried; they cook the brown rice in a unique way, making it super tender and very flavorful.  Hubby tried the miso soup with tofu and seaweed as well.
Our main courses were Kung Pao Tofu (easy substitution of the tofu instead of chicken), Vegetable Lo Mein and Sweet and Sour Whole Branzino (sea bass).  The branzino scared me a bit when it arrived at the table but it was prepared expertly and absolutely melted in our mouths.
I surreptitiously asked the waiter to bring a special dessert for my husband and I to commemorate the birthday and he didn't provide much detail beforehand, just stated that he had the perfect dessert.  My husband was pleasantly surprised at this massive dessert that appeared at the end of our meal.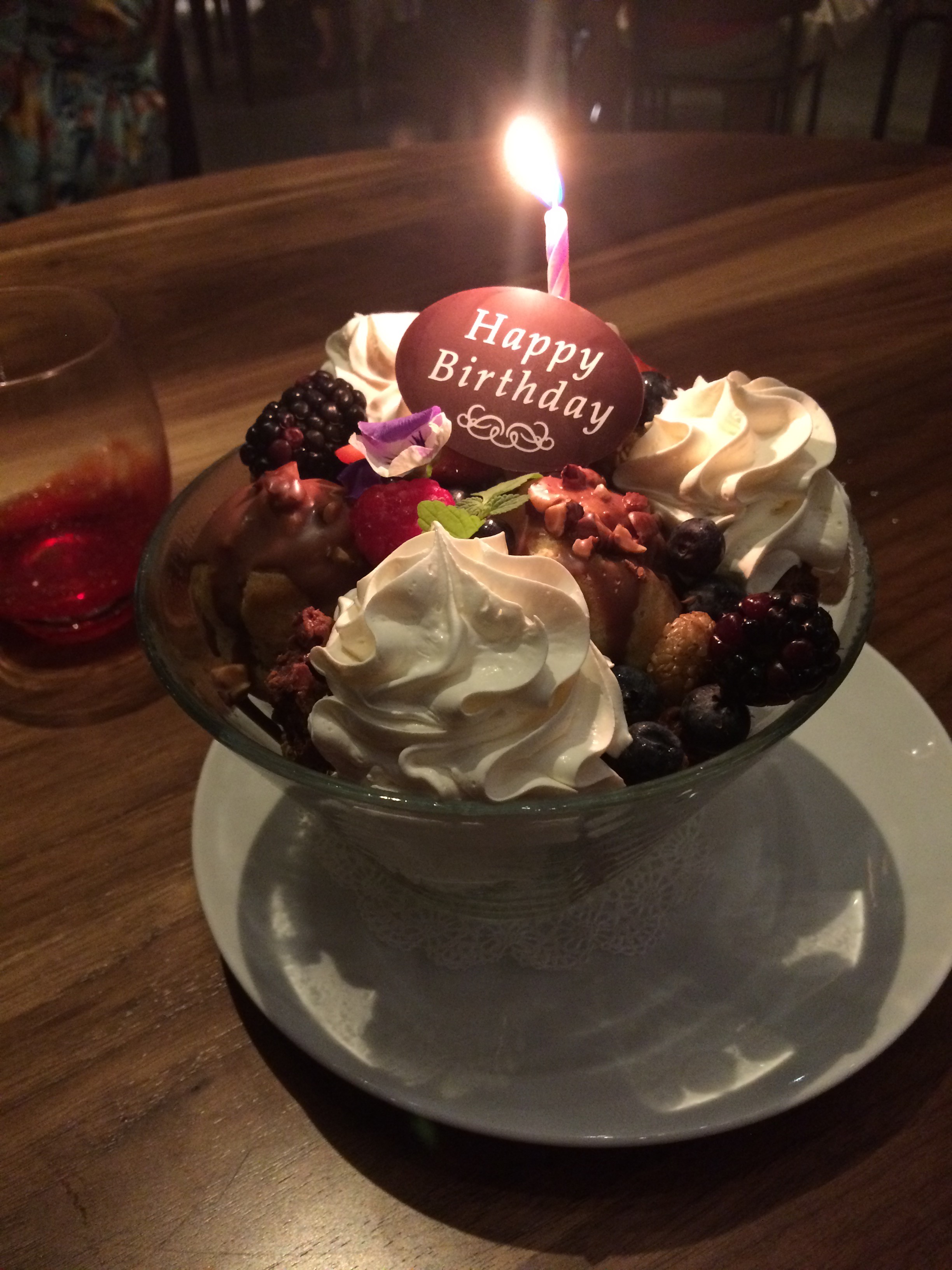 This thing was RIDICULOUS.  Vanilla Bean ice cream on the bottom.  Three gigantic chocolate hazelnut filled profiteroles (also drizzled with chocolate and sprinkled with hazelnuts), fresh berries, these interesting gummy sesame sweets and whipped cream.  We only made it a quarter of the way through but it was oh so yummy!
The clientele was varied; families with young children were seated next to uber trendy looking couples and 50+ professionals.  There were diners dressed up to the nines and some who looked like they had just come from a long day at the Disney Parks.  This added a relaxed atmosphere to the whole restaurant where it seems anyone can feel comfortable and share in this classy experience.  It seems to be a place where we could bring our girls and share a family meal that all will enjoy.  We finished the evening with a long, languid stroll back through the nighttime excitement of Disney Springs as we headed to our car.  Altogether it was a great evening and we will be sure to return soon.
Have any of you been to the new Disney Springs or the Morimoto Asia restaurant?