The morning of our last day on the Oasis arrived with mild tears from our girls who either didn't want to get up or were missing their new friends from Adventure Ocean already.  We arose around 7:45am and dressed quickly.  We discussed our breakfast options for that day (Windjammer, Park Cafe, American Icon Dining Room) and decided to avoid the buffet altogether and head to the dining room.
The night before disembarkation we had put our luggage outside our stateroom door and it was picked up by the porters overnight.  We were assigned a departure group and our estimated departure time was 8:30-9:00am.  We considered express self-assist departure which means we would have to rise early and depart, carrying our own luggage between 6:30-8:00.  We figured it would be easiest with the kids in tow to sleep in a little bit and just collect our luggage off the ship.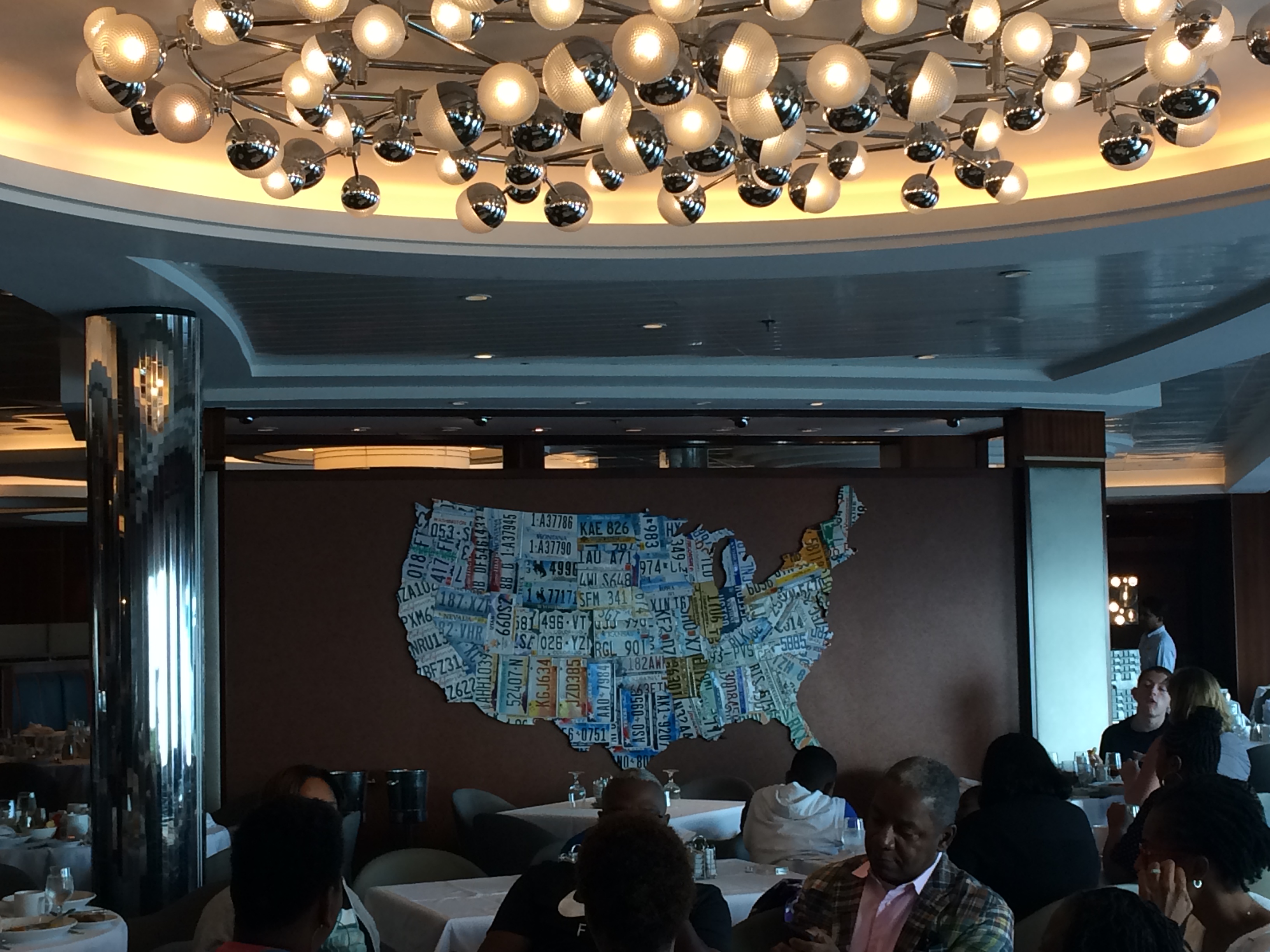 This was our first time inside the American Icon dining room and I really liked the decor.  We were quickly ushered to a table for four beside a window and were welcomed to sample the buffet.  Prior to seating us we were asked whether we we wanted to order from the menu or eat from the buffet; it seems the seating choices were made based on our decision.
As this was our first experience in the standard dining room I was impressed with the attentiveness and friendliness of the wait staff.  Even though I could tell they were all hustling to get hundreds of people fed and off the ship, they were very helpful and patient.  Our drinks were brought quickly and refilled a few times, without request.
We sampled the moderate buffet and enjoyed everything that was offered.  The buffet had REAL eggs (cheese and plain pre-made omelets), hash brown potatoes, grilled tomatoes, sauteed mushrooms, Belgian waffles, breakfast meats, dry cereals, yogurt and fresh fruit.  Everything we sampled was fresh and tasted great.
During our meal, our group was called for exiting the ship, about 15 minutes before our pre-set time.  We took our time finishing our meal and then headed down to the promenade level toward the gangway.  From there everything moved along very well considering the hundreds of people moving toward customs.  After we left the ship we were led into the massive customs area where we picked up our luggage (found easily as the bags were all grouped based on group numbers) and joined the line to pass through customs.  Though the line was long and folding upon itself repeatedly, it was constantly moving and we never really felt like we were waiting.  From departing the ship to  reaching a customs officer the whole process took about 30 minutes which I found to be reasonable.  Next time we are aboard a large ship we will probably choose this method of disembarkation instead of self assist.
Our short experience on the Oasis was the perfect introduction to a legendary ship.  We are looking forward to a chance to enjoy this ship (or it's sister, Royal Caribbean's Allure of the Seas) in the future.  Have any of you had a chance to enjoy a vacation on the Oasis or the Allure?