One of the perks of working from home and being a homeschool family is that we are blessed with a lot of flexibility in our days.  As you can imagine, this totally works for our spontaneous travel style!  We'd heard a lot about the Oasis Class of ships by Royal Caribbean, the largest ships in the world.  In October we came up a unique opportunity for a 3 day cruise aboard the Oasis of the Seas, which usually runs 7 day cruises year round from south Florida.  We discovered the cruise two weeks before sailing and were able to book an inside stateroom at a good price (travel agent perks FTW).  It seemed like a perfect opportunity for us to experience the incredible ship and see for ourselves if it lived up to the hype.
After driving 2.5 hours down to Ft. Lauderdale from Orlando we spent a comfortable night at the Holiday Inn and Suites near the port.  The night before we had secured a spot on the shuttle from the hotel to the port so we hustled to prepare for our 10 am departure.  The kids were bouncing with excitement; my neurotic older daughter kept pestering us to "hurry up, we're going to miss the shuttle".  The Holiday Inn offers a hot breakfast that was complimentary; there were pancakes, biscuits and gravy, bacon, fresh fruit, instant oatmeal and cold cereals, yogurt and beverages.  It wasn't outstanding but the area was clean and the food well stocked, even though we arrived 10 minutes before breakfast ended.
We boarded the shuttle around 10:20; the bus was completely packed but the service was run smoothly and efficiently and we were at the Royal Caribbean port by 10:45. We were anticipating serious crowds when we arrived and were surprised that the check in process was actually quiet.  Our pre-boarding documents stated that our boarding time was 12:30-3:30 but I had read online that they wouldn't turn us away if we arrived early.  Sure enough, we were ushered through the steps without any delay.  After waiting in the holding area upstairs for about 15 minutes we finally boarded when the ship was cleared, around 11:30.
After getting our Sea Pass cards we headed up the escalators to the waiting area.  A friendly, old staff member took this family picture of us.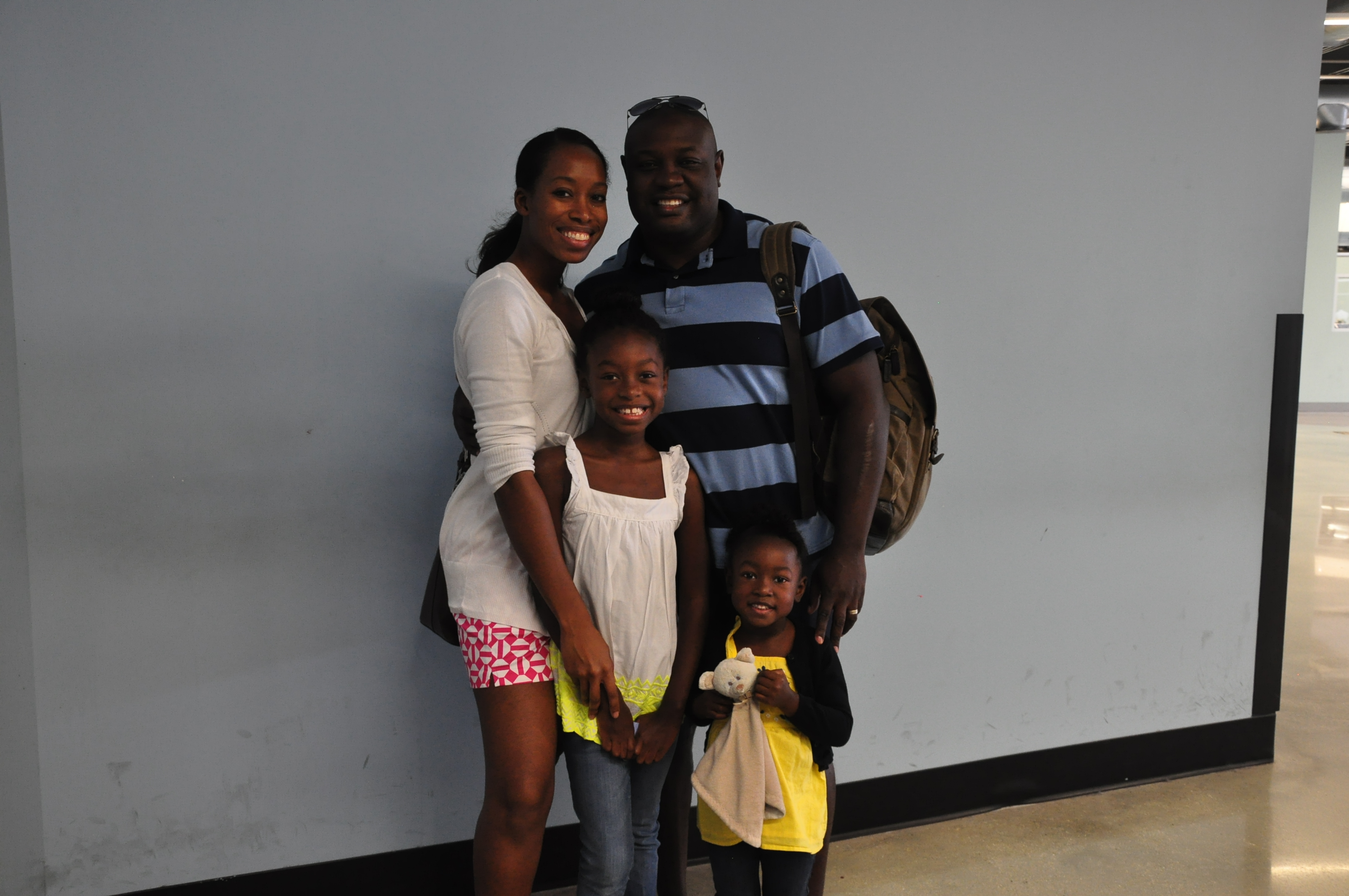 We were some of the first people onboard (we are Gold Royal Caribbean Loyalty Members) so the ship wasn't too busy when we boarded.  We headed directly to guest services which was in the Royal Promenade where we boarded (deck 5); we wanted to discuss our dinner reservations and ask about show reservations; we were able to adjust our dinner reservations but the box office was closed and we weren't able to book any show seats.
Next we headed straight up to deck 16 to the Windjammer Buffet for lunch.  Anticipating a crowded ship we were surprised at how quickly the elevators came.
I hadn't been on the Windjammer since our disastrous experience on Royal Caribbean's Enchantment of the seas so I was pleasantly surprised by the quality and variety of food presented for lunch.  My favorites of the day were the Indian bar and the Jamaican bar featuring fried plantains and dumplings.
Both of these cuisines were expertly prepared and tasted authentic.  There were also standard options like burgers/hot dogs/cold sandwiches, pasta, and a salad bar.  We also were easily able to find a seat, though I'm sure this was due to our early boarding spot.  As our meal wore on the space became notably busier.
After we ate we went to sign the girls up at Adventure Ocean.  The girls were super excited, running at top speed down the hall.  The Adventure Ocean area is actually something like a little village.  There are walking paths and separate rooms for different age groups and different activities.  There is a science room for experiments and a craft/activity room.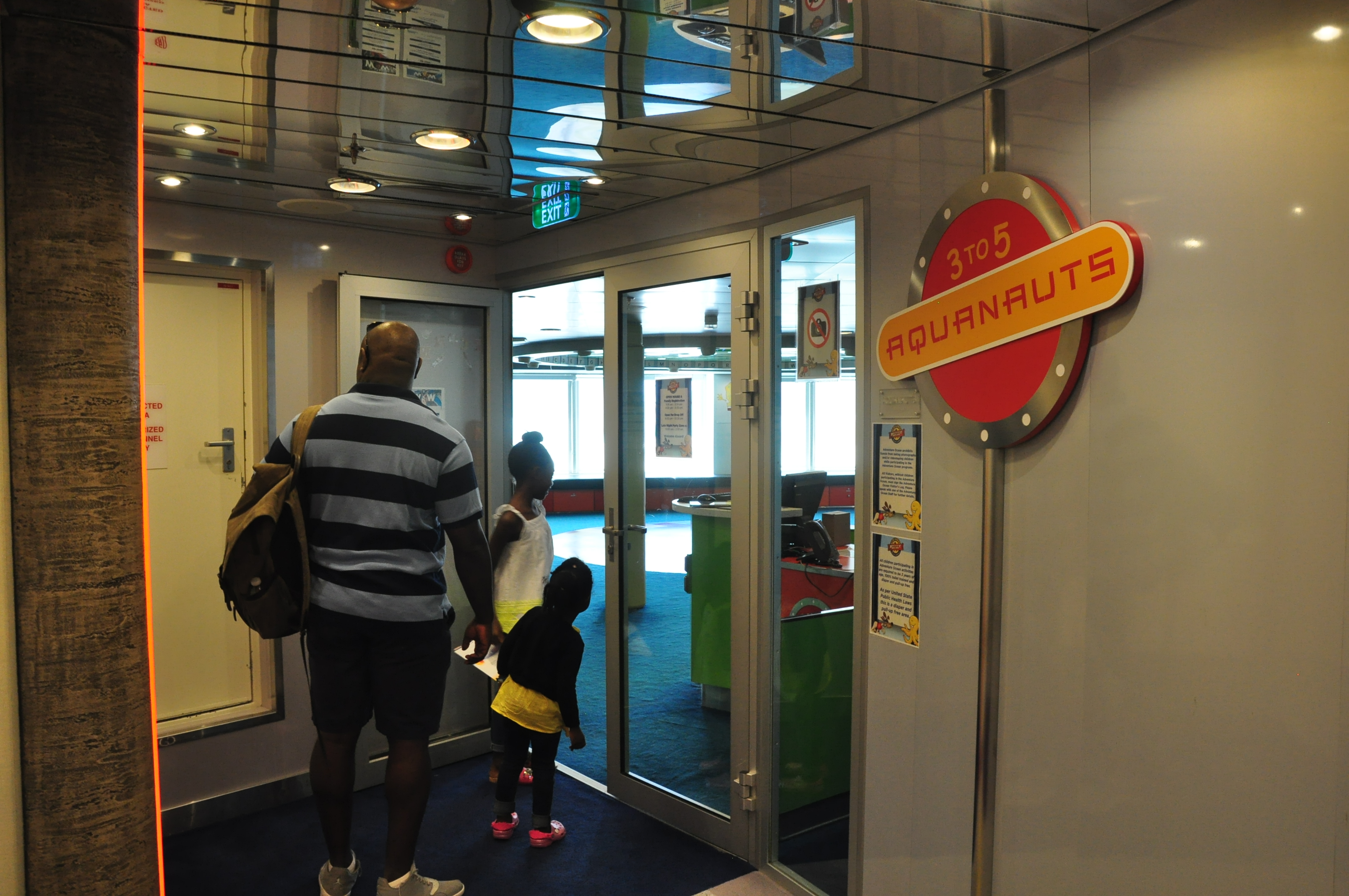 The Adventure Ocean theatre features plush velvety seats and a large screen with a stage.  Dreamworks films play several times a day and the kids also can experience shows there, just for them.  The age groups are divided into different rooms: Aquanauts (ages 3-5), Explorers (ages 6-8) and Voyagers (ages 9-11).  We signed in the girls and chatted with the super friendly staff members there.
On embarkation day the club does not open until 8pm so we planned to return then.  I'm happy we registered the girls early because when we returned that evening for drop off the lines were long and we were able to bypass the other families and sign our kids in promptly.
This post is getting too long and I've only gotten through half of our day!  Stay tuned for the second part of the day one travelogue…