We were able to board the Oasis of the Seas late morning and since we were relatively early boarders we had lunch quickly at the Windjammer and registered at Adventure Ocean.  Afterwards we headed down to the Boardwalk area because our youngest wanted to ride the carousel.  Royal Caribbean really did an excellent job of creating a boardwalk atmosphere; my Hubby who spent his childhood in Brooklyn, remarked at how they captured a taste of the Coney Island experience.
The entrance to the Boardwalk has three large carousel horses in different stages of completion.  There are a couple shops and a few eateries including the Ice Cream Parlor (which also features cupcakes), Sabor, and Johnny Rockets.
The Aqua Theatre is also located in the Boardwalk neighborhood; the rock climbing wall can be access from this area as well.  We rode the carousel 3 times and had a blast.
Those balconies next to the rock wall in the picture above are the personal balconies of the aquatheater suites; these suites feature two separate bedrooms, two full bathrooms and 800 square feet total space (the balcony is an addition 800 square feet).
Passing back through the Royal Promenade we then headed up to the sports deck to look for the miniature golf area and take a look at the Flow Riders.  Oasis Dunes is a complementary miniature golf zone that is open 24 hours.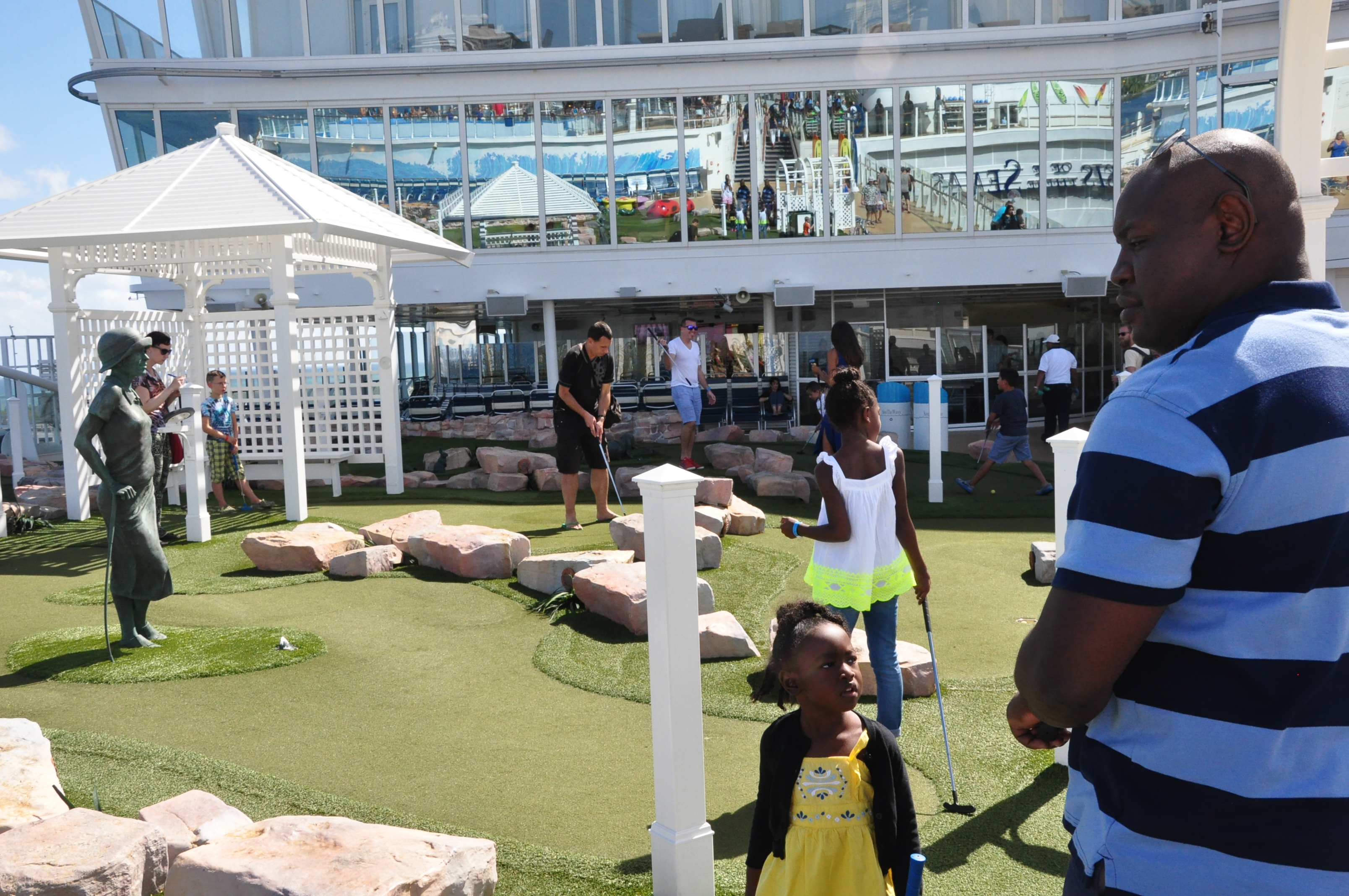 Near the gazebo entrance are two bins that hold adult and child sized put put golf clubs and plenty of golf balls.  There is a much easier, smaller zone for little kids and then the main area which was perfect for my older daughter.
Watching the Flow Riders was fun.  That's the closest we got to it, LOL.  There are small spectator stands at each of the two Flow Riders where other passengers can just sit and watch you kill it on the surf board/bodyboard or totally wipe out.  It was fun to watch and the weather was gorgeous.
By now our tummies were growling again so we headed back to the Windjammer for a "late lunch".  We had initially eaten around 11:30 when we originally boarded and now it was around 3:30.  The Windjammer was PACKED at this time.  And I mean, packed like it was hard to maneuver, hard to walk around and very difficult to find seats.  We were SO happy we had boarded early that day.  We eventually found a table (by stalking a couple diners who looked like they were almost done eating) and had light meal.
After wards we decided to head back to the room to see if our luggage had arrived while we waited for the muster drill.  We were able to unpack quickly and made it to our muster station (Opal Theatre) easily; we were pleasantly surprised that we were meeting inside for the drill this time!
After muster drill we went straight to the Aqua Theatre for the Sail Away party.  I thought it would have been better attended but figured maybe most people preferred to head to the pool deck for sail away.  The party at the Aqua Theatre was fun and included appearances from DreamWorks Characters like Shrek, Fiona and King Julien from Madagascar.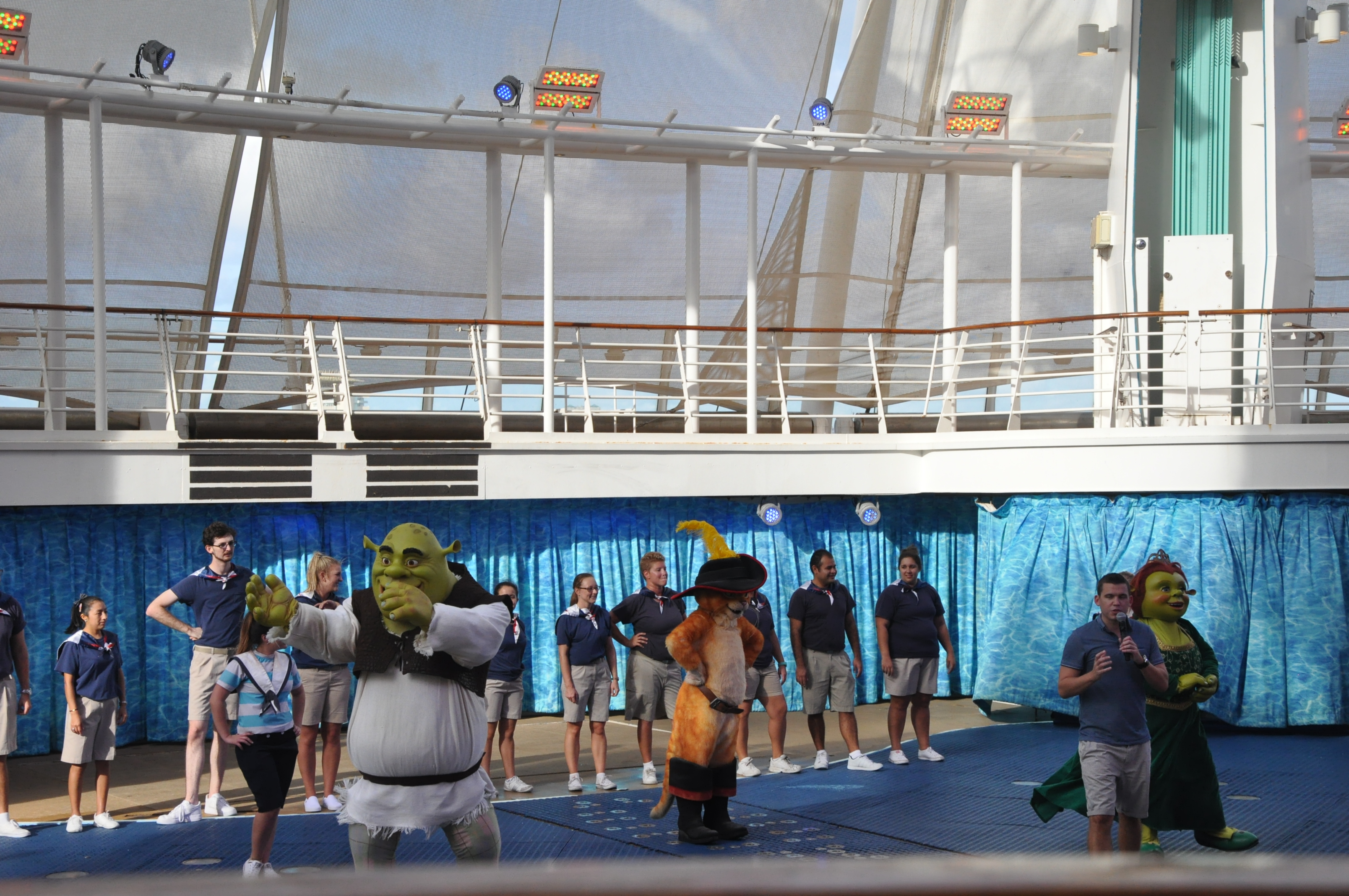 Dinner was shortly thereafter at Giovanni's Table.  This Italian themed restaurant is noted for it's family style dining which means most items are presented to the center of the table for sharing.  There also was a kids menu that my girls enjoyed.  Service was excellent and quick.  The Central Park setting was gorgeous and very relaxing.
After dinner we headed back to the stateroom and changed the girl's clothes for their first drop off at Adventure Ocean.  After we dropped them off Hubby and I just went roaming around the ship.  We returned to the Boardwalk neighborhood and visited the cupcake shop, deciding on small scoops of ice cream for our nighttime treat.  We pretty much wandered the ship, peeking in and out of different venues until the 10 o'clock comedy show.  We enjoyed the show a lot; the comedians were funny and relatable and the show was only an hour so we felt that we had a great evening.  We picked up the girls around 11pm and once back in our stateroom we all fell asleep quickly.
Our first day on the Oasis of the Seas was super packed and quite enjoyable.  I felt like we had spent a whole day onboard and certainly, in the future, we will always do our best to board early.  You can find the details on the earlier part of our first day onboard here.  If you're interested on more info about what Royal Caribbean has to offer in cruise vacations please take a look at my travel site.